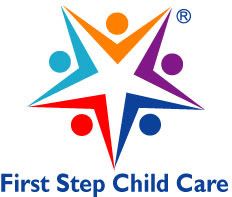 First step is a child development center teaching children age birth to five years old and an after school program. Our philosophy is "children learn as they grow." We focus on actively developing the child's motor skills, social development, gross motor skills, and academic learning.
Our program is geared towards the individual needs of each child. DLM curriculum will prepare the child for entering elementary school with the appropriate knowledge base, encourage appropriate social behaviors, and provide a healthy, physical and nutritional program for life-long fitness. The infant program focuses on early brain development and emotional well-being. The pre-school curriculum enhances readiness skills to be utilized throughout the lifetime of the individual.
First Step would like to think of our program as extension of your family, as a community. In order to maintain the quality of the school and to provide a superior education for our students, we are dedicated to providing training, benefits, and equitable policies that surpass those found in most facilities.
Recent Tweets
"Children are great imitators. So give them something great to imitate." -... - 35 weeks 19 hours ago


---

Only a few more spots left for summer camp! Let your friends know! - 50 weeks 6 days ago


---

Parents! If you have children ages 5 and up and are going to be attending... - 1 year 2 weeks ago


---

I posted 9 photos on Facebook in the album "" http://t.co/u5Pwf8bL - 1 year 5 weeks ago


---

I posted 21 photos on Facebook in the album "" http://t.co/TNtJqPJ7 - 1 year 5 weeks ago


---

Sorry for the confusion but we are changing the Easter egg hunt to thur... - 1 year 7 weeks ago


---

Yard sale going on now!!!! http://t.co/jAov3cKP - 1 year 8 weeks ago


---

Parents: if you have a school age child that will be attending during... - 1 year 10 weeks ago


---

Happy Leap day everyone- hope everyone has a great day! - 1 year 11 weeks ago


---

We are closed Monday February 13th! - 1 year 14 weeks ago


---